A Comprehensive Guide to AIOps Integration in Organizations
AIOps, aka Artificial Intelligence for IT Operations, is an AI application & relevant technology platform with multiple layers. AIOps automates and enhances IT operations with the help of analytics and machine learning. The breakthrough that came with AIOps is to make IT operations relatively seamless. According to Gartner, AIOps combines machine learning and big data to automate processes, event correlation, causality determination, and anomaly detection.
AIOps solutions leverage algorithmic analysis of Observability from different sources with IT data to give SRE, ITOps, and DevOps teams an edge to be more productive and efficient. The most incredible aspect of using AIOps today is that this methodology helps the digital world's frontiers detect issues early on. When the resolution is provided seamlessly, the impact on business operations in any organization is significantly reduced.
Taming the complexity of modern-day IT operations requires quantifying data in the digital environment. AIOps aid in maintaining uptime while preventing outages and achieving continuous everyday service assurance. Digital transformation always revolves around IT infrastructure. With AIOps, organizations can operate with the agility that is the requirement for today. In the end, a remarkable user experience is what everybody wants to achieve.
Platforms developed with AIOps are meant for today and the future!
Would you call the modern-day data center to be where your great-grandfather used to work? Didn't think so; today's data center is dynamic as the IT environments are constantly changing with sticks and stones and IT tools of yesteryears. Modernizing the IT infrastructure is imperative; containerization and microservices make it a reality.
IT infrastructures have been evolving rapidly; in less than a decade, organizations are moving from static, predictable systems with physical accessibility to software-defined resources that can be reconfigured on demand. Without dynamic technology & processes, an organization cannot survive today in the long run.
Managing complexity in the modern IT environment can be traced to three levels. They are:
Tools:
Tools are the outer layer and the third used to manage and monitor data and systems. Numerous tools exist today that narrow down functionality. They are unable to interoperate while creating data as well as operational silos.
Data:
The IT environment's second layer is the data the systems generate. It comprises metrics, logs, event records, and traces, among several others. The second layer is complex because data is available in large volumes with several varieties, specificity, and redundancy.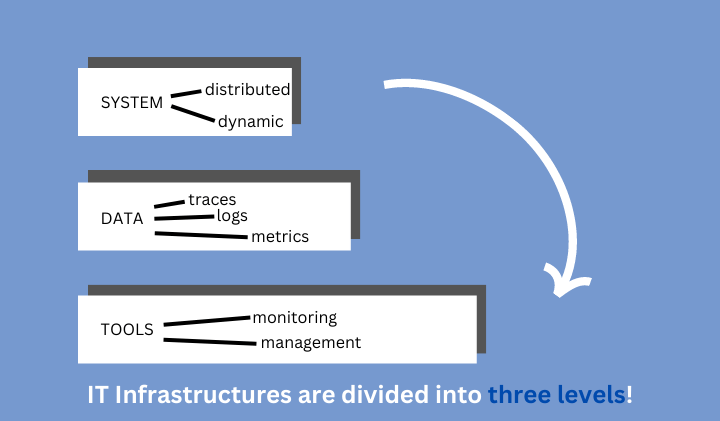 Systems:
The first layer is also the most common. Systems showcase the core complexity of an IT environment. Systems are modular, dynamic, distributed, and their components are short-lived; hence the complexity becomes significant.
Every year, systems that function with old rules must catch up. The need for static, homogenous, and pre-established infrastructure is obsolete as the IT infrastructure evolves. AIOps is the answer and the solution to the problems that come with conventional IT Infrastructure. Machine learning & data science gives IT operations an edge if organization adapt AIOps. There are always new and unprecedented problems for which rules must be crafted. Furthermore, this affects the performance and availability of digitization.
AIOps, the powerhouse of modern-day digital operations
AIOps platforms, in the real-world setting, accumulate data from different sources in an IT environment. The data is usually gathered from applications, cloud instances, networks, infrastructure, and storage. The process goes like this:
Step 1-
AIOps solutions use algorithms to remove duplication and noise. Further, the process is carried out by selecting relevant data for the organization. This sort of algorithmic filtering significantly reduces 'n' the number of alerts Ops teams go through. Moreover, the filtering process aids in the elimination of duplicate work that come with repetitive tickets and is further directed toward different teams.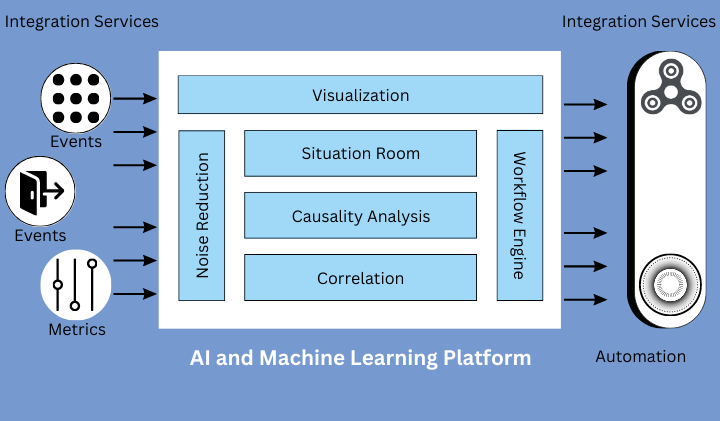 Step 2-
In the second step, correlation emerges, where relevant information, such as several topologies, time, and text, is considered. As the data pattern is identified, it then infers to showcase causes and events that led here.
Step 3-
AIOps platform then communicates the analysis result to a collaborative ecosystem where the team collaborates virtually to solve the incident. The team has access to all the data procured so far. The virtual team comprises specialists that swarm around the issue, which goes beyond the organization's technological and operational boundaries.
The 'swarm of experts' decides upon fixes and then chooses completely automated responses. Further resulting in providing a precise, fast, and optimum resolution. Long story short, AIOps, which their incredible capabilities, can help compartmentalize incident and ticketing management by making the process agile and collaborative.
One of the most promising capabilities of AIOps is that the technology automatically improves incident response by streamlining the workflow without relying on human intervention. An average AIOps platform has causes & solutions in store for every incident. The Ops team uses the diagnosis and then prescribes solutions that can be resolved in the future.
How can CloudZenix help you fit AIOps into your existing IT Infrastructure?
If you're looking to integrate AIOps in your organization for the first time, you might hit the roadblock of how it can fit new tools into the existing infrastructure. CloudZenix, as a DevOps and Cloud Computing solution provider, will not ask to suggest you replace the log management, existing monitoring, service desk, log management, and, lastly, the orchestration tools. Our AIOps solution sits amidst these domains by consolidating information across them.
When you get the proper access to every piece of tools of AIOps, you can access the correct information at any time! Our AIOps solution provides a versatile and flexible approach to help you strongarm your IT monitoring and management with tools that intelligently help your business. AIOps is used today by organizations of different sizes, types, and industries in either large or complex environments.
You don't have to be convinced. Instead, contact us for a one-on-one here or contact us at info@cloudzenix.com.